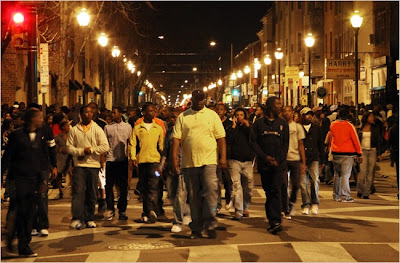 Chicago, IL
—White folks on the Gold Coast have been smug for a long time as they supported the "Nanny" government programs and all that Liberal claptrap.
Black violence was nearly always confined to the ghetto. White people are beginning to learn about the violent and bankrupt African-American culture of Chicago the hard way.
The Black Flash Mob crime pattern is targeting Chicago's White people in incredibly hateful new ways. These thugs easily overwhelm the outgunned, overworked, underpaid and totally demoralized police department and evade arrest by their sheer numbers.
Those ignorant White, Gold Coast Liberals that don't believe in gun rights or self-defense are getting what they deserve, a very painful education. The cowardly thugs know the law-abiding Gold Coast dwellers would never violate those un-constitutional guns laws and accordingly are soft and easy targets.
They say a Conservative is a liberal that was mugged. There's a lot of truth in that old saying.
The concealed weapon legislation would have gone a long way to deter the mobs of thugs attacking since sooner or later they could wind up very ventilated.
The police are incapable of ending these attacks. Most businesses on the Gold Coast will close shop and run before they'd hire armed security guards to protect their stores and paying customers.

I guess the White people of the Gold Coast would rather live in fear than support their right to protect themselves and families.

The only way to stop this Black on White crime wave is through serious armed resistance.

I support the carrying of firearms by the law-abiding but that needs to involve professional training. There is a lot to learn in addition to marksmanship and safety. There is the reality of the law and liability of the justifiable use of deadly force.

Many conventioneers don't like coming to Chicago since their home state concealed weapon permits are not honored here. Chicago is a good place to avoid.


It's time to demand that Governor Pat Quinn side with the majority of Illinois' lawmakers and sign concealed weapon legislation perhaps in a special session.